The Work Order module for Sage 100 ERP (formerly Sage ERP MAS 90 and 200) is the cornerstone of the system's Manufacturing Solution. It allows you to issue work orders, develop schedules, and track costs associated with the manufacturing process. Work Order provides you with complete control of the manufacturing process and the ability to see up-to-the-minute, work-in-process information. This module is particularly well-suited for companies engaged in assemble-to-order, engineer-to-order, or make-to-order processing.
When Work Order is used in conjunction with Bill of Materials, the material required to produce a product can be automatically merged from the appropriate bill. All of the required paperwork to move the job through the shop can then be generated from each work order, including travelers, picking sheets, dispatch sheets, and operation tickets.
Using this module's informative reports, you can evaluate missing costs, examine any variance from standards, check material shortages, analyze work center capacity, and confirm tool requirements. Additional reporting capabilities inform you of the status of open work orders, work in process, and work order history, and allow you to print inventory labels.
By combining the Work Order module with other modules from the award-winning Sage 100 ERP product lines, you can assemble the solution that best meets your individual business needs.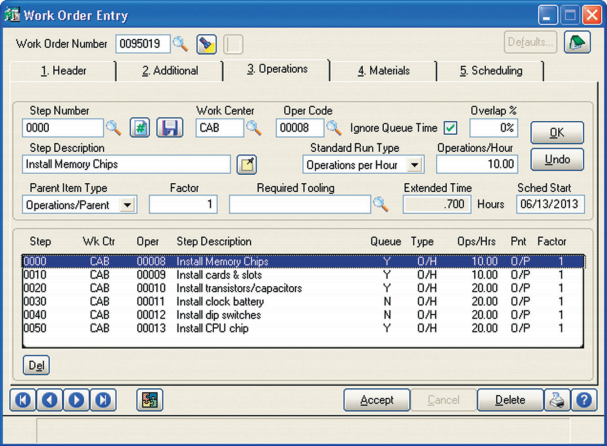 Edition
Compatible with Sage 100 Standard and Advanced ERP
Features
Work Order Templates
Work order templates with material information can be defined. Standard work orders can use the information established in a template to speed data entry.
Work Order Estimates
Examine the cost and scheduling impact of a work order without committing the inventory components. As an added convenience, an estimate can be easily converted to a firm-planned work order.
Material Issue Methods
You can automatically issue materials when a work order is released, or you can manually issue materials using the Work Order Transaction Entry program. You can also use the "backflush" method to issue materials, labor, and overhead when a work order completion is recorded.
Work Order Make Option
A Make Option can indicate how the item produced by a work order is to be used and can be made for inventory, a sales order, or for another work order. The Back Order Fill Report provides a list of sales and work orders that can be filled upon completion of a product.
Extended Step Description
Enter up to 100 lines of description for each step of a routing or a work order. The Step Description can be printed on the Work Order Traveler and Operation Ticket to provide detailed instructions for shop employees.
Work Order Scheduling
Scheduling information can be maintained for each work order. Forward scheduling can be used to calculate the due date based on a specified release date and the lead times. Backward scheduling can be used to calculate the necessary release date based on a specified due date. You can reschedule a work order after it has been released.
Work Center Capacity Analysis
The Work Center Capacity Inquiry and Scheduled Capacity Report indicate capacity commitments against work centers. Information can be displayed graphically or in detail showing the start date, work order number, and committed hours.
Work Order Documents
You can print Work Order Travelers, Picking Sheets, Dispatch Sheets, and Operation Tickets for work orders. These documents can be printed for released or unreleased work orders.
Work Order Transaction Entry
All transactions against a work order can be entered using this program. The types of transactions allowed are work order release, material issue, labor, miscellaneous labor charge, miscellaneous material charge, outside processing charge, work order completion, and work order close.
By-Product Accommodation
By-products of a manufacturing process, also known as co-products or joint products, can be received into inventory as part of a work order transaction.
Work Order History
Complete detailed history information for closed work orders can be displayed using Work Order History Inquiry or printed on the Work Order History Report.
Work Order Cost Roll-up
Item costs can be calculated based upon the cost of each component in its bill of materials, yield and scrap percentages, and the labor and overhead in the routing. The Standard Cost field can be updated with the calculated cost following the completion of the report.
User-Defined Fields
Up to four user-defined fields can be entered for each work order. Fields can contain a date or up to ten alphanumeric characters.
Work Order Memos
Memos can be entered and maintained for individual work orders. Full text-editing features are available. Work order memos can be displayed and maintained from Work Order Entry and can be printed on the Open Work Order Report.
Work Order Labels
Labels can be printed for each inventory item completed from a work order. A single label can be printed per batch of items, or separate labels can be printed for each item produced.
Bar-Code Printing
Bar codes can be printed for selected fields on Travelers, Operation Tickets, Picking Sheets, and Work Order Labels. Both Code 39 and Code 128 bar-code formats are supported for a variety of printers.
Reports
Routing Listing
Work Order Traveler
Picking Sheet
Dispatch Sheet
Operation Ticket
Work Order Transaction Journal
Auto Issue Material Shortage Report
Back Order Fill Report
Work Order Labels
Daily Transaction Register
Work Order Cost Roll-up Register
Open Work Order Report
Work Order Memo
Material Shortage Report
Scheduled Capacity Report
Tooling Requirements Report
Work in Process Report
Work in Process Recap Report
On Demand Cost Ledger
On Demand Missing Cost Report
On Demand Variance From Standards Report
Work Order History Report
General Ledger Posting Recap

Work Order